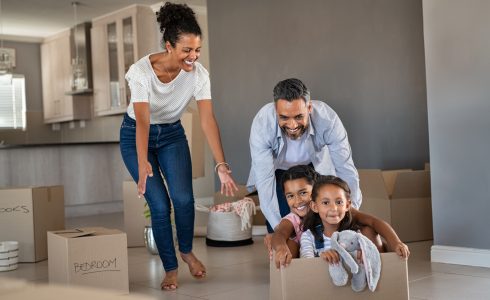 Moving is an exciting but often stressful experience for adults, and it can be even more challenging for kids. They may feel sad about leaving their friends and familiar surroundings behind, and they may be anxious about starting over in a new place. As a parent, it's important to acknowledge and validate these feelings, while also doing everything you can to smooth the transition.
Whether you are moving across the country or just down the street, it can be a huge disruption to your child's routine and sense of security. But with a little planning and preparation, you can help your kids adjust to their new home and make moving easier for everyone.
Communicate with your kids
One of the most important things you can do when preparing to move with kids is to keep them informed and involved in the process. Talking to your kids about the move, explaining why it's happening, and answering any questions they have can help to alleviate their anxiety. Let them know what to expect in terms of the move itself, such as the timeline and what will happen on moving day.
Encourage them to express their feelings and concerns and offer plenty of reassurance along the way. You can also take them with you when you look at potential new homes, and let them give input on which one they like best.
Involve your kids in the moving process
One of the best ways to reduce the stress and anxiety of moving for kids is to involve them in the process as much as possible. This can include everything from letting them help pack and label boxes to giving them a say in the location and layout of their new room. By involving them in the decision-making and planning process, kids feel more in control and invested in the move, which can help reduce their feelings of uncertainty and anxiety.
Maintain routines and rituals
As we've already mentioned, routine is very important to children, and this is especially true during times of change or upheaval. Even during the chaos of moving, try to maintain a sense of normalcy by sticking to regular mealtimes, bedtimes, and other daily routines.
If your kids have extracurricular activities or sports that they enjoy, make sure to sign them up for similar activities in your new location as soon as possible. This will help them feel more connected to their new community and give them a sense of familiarity.
Explore your new neighborhood
Once you've moved, take some time to explore your new neighborhood with your kids. Visit local playgrounds, parks, and attractions together, and try out some new restaurants or shops together. This can help your kids to get excited about their new home and create a sense of belonging in their new community. Encourage your kids to make new friends and connect with neighbors, and don't be afraid to get involved in local activities and events as a family.
Plan a special "welcome home" celebration
Consider planning a special celebration to mark your move and help your kids adjust to their new home. This can be as simple as ordering pizza and having a movie night or as elaborate as throwing a housewarming party in your new home. Alternatively, you could plan a special outing or activity together as a family, such as a trip to a nearby museum or amusement park. Celebrating your move can help to create positive memories and associations with your new home for your kids.
Practice patience and understanding
Moving can be a difficult and emotional time for everyone, including parents. It's important to remember that your kids may be struggling with their own feelings and experiences during the transition and that it may take time for them to adjust to their new surroundings. Practice patience and understanding, and be willing to listen and support your kids as they navigate this new chapter in their lives.
Moving with kids can be a challenging experience, but it can also be an opportunity to create positive memories and strengthen family bonds. These tips can help your kids adjust to their new home and make the transition as smooth as possible. Moving is an exciting opportunity for growth and change, and by approaching it with positivity and optimism, you can help your family thrive in your new home and create a happy, positive future together.
Find your new home with Williams Homes
When it's time to find your family's new home, we hope you'll consider Williams Homes. We build new home communities Northern and Southern California, Idaho, Montana, and Texas in you'll love where you live. Learn more about our available quick move-in homes and new home communities at WilliamsHomes.com.