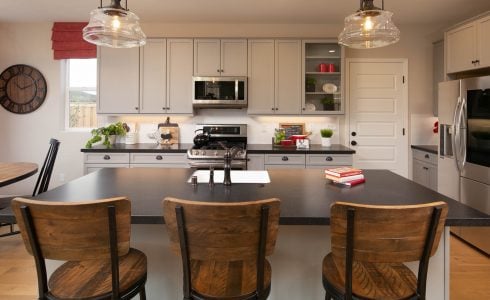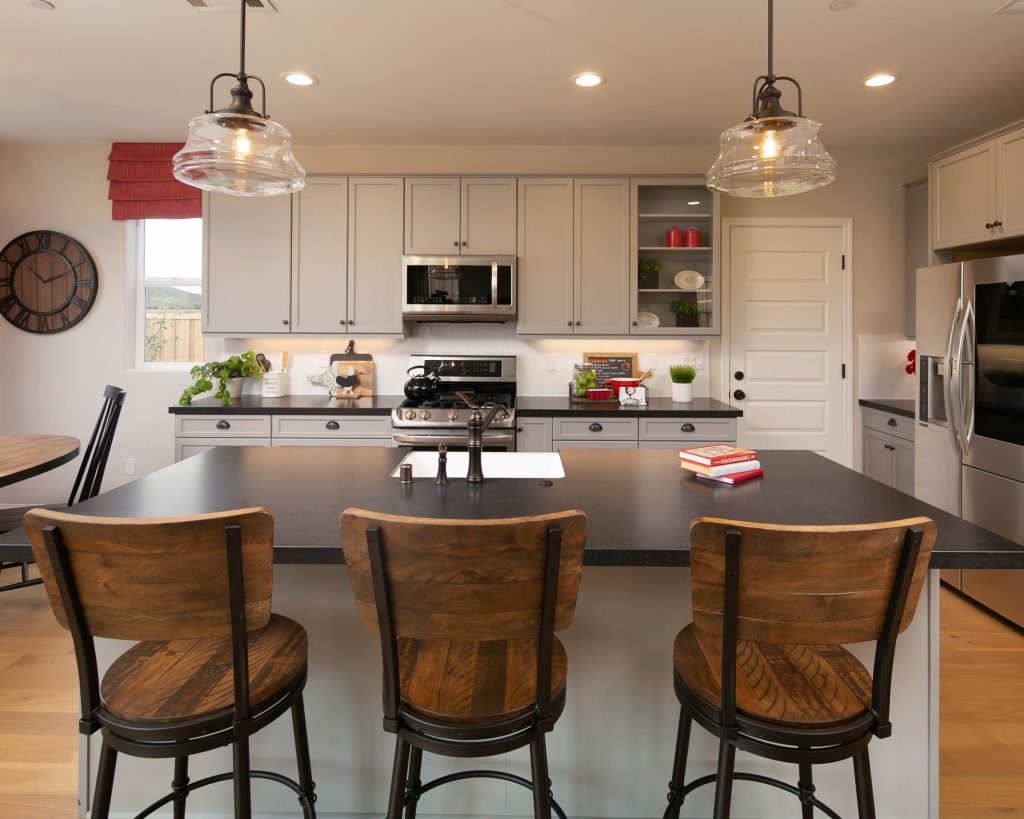 New year, new home. How exciting! Whether you're currently building, in the process of looking, or getting ready to do so, how to integrate today's best looks into the home is probably on your mind. Thankfully, Elle Decor is here with some of the top home design trends of 2020.
Indoor furniture
There are a number of furniture trends that are coming to the forefront this year and which would look great in a new home. House Beautiful recently highlighted "Grandmillenial style"—a look that is "having a moment," Ariel Okin of Ariel Okin Interiors tells Elle Decor. "The look is traditional design with a twist: blending elements of classic design like chinoiserie, scallops, natural fiber rugs, topiaries, and more, with a contemporary edge (Think: modern art and clean lined furniture.)." 
Furniture with rounded edges and European-inspired details are also "in," according to top designers. "German and Italian influences can be found in the sloping arms of couches, knife-edge welts, metal legs, and more," said Marie Flanigan of Marie Flanigan Interiors. "I am even seeing traditional furniture brands embracing the trend, offering European silhouettes and features for the first time." 
Rounded edges are a throwback to an earlier era, but look great in modern silhouettes. "The 80's are having a big comeback right now, and while most of the trends from that era are hard to swallow, the tubular forms we're seeing in furniture harken back to that time and can be really fun and modern if done tastefully," said Christine Markatos Lowe of Markatos Design.
The other big trend in furniture for the new home, according to Elle Decor, is not surrounding a style or shape, but rather a material—and it's one families will love. "Performance fabrics are a must—they have changed the way we live by making every room functional for the entire family," said Lonni Paul of Lonni Paul Design. "They could be used in the messiest of family rooms, but also in luxurious living and dining rooms while maintaining a fashionable aesthetic."
Wallcoverings
Wallpaper has been a growing trend over several years. Personally, we're big fans of the peel-and-variety that allows you to take it down and switch it out as often as you'd like. But, if you're ready to make a longer-term commitment, think "single-print drama." This is the trend Scot Meacham Wood of Decorist loves for 2020.
"What could be more simple, yet incite more drama and style, than a room covered in the same print from floor to ceiling? Inspired by some of the overtly glamorous—and timelessly chic—spaces brought to life by design icons such as Gloria Vanderbilt and Lee Radziwill," he said to Elle Decor, "today's bolder design enthusiasts are turning 'Why didn't I think of that?' into 'I want to DO that!'"
Colors
While the best grays will remain classic, there is a trend toward Earth tones for the new year and new home. "Say goodbye to the cool tones that have ruled for so many years," said Marika Meyer of Meyer Interiors. "Shades of chocolate brown, wine, olive green, and yellow ochre are all taking over in homes. We love substituting these warm, natural colors for a neutral on the sofa or walls." 
And don't forget about blue. The hue that is "suggestive of the sky at dusk" is Pantone's Color of the Year for 2020. When used in the home, Classic Blue is "easily applied across so many different materials, textures and finishes" and has the potential to "inject creative confidence into interiors." 
Bathrooms
Boring is out. It's time to inject a little fun and drama into this space. "Bathrooms are a great place to experiment and have fun with color, materials, and/or wallpaper," said Bailey Austin of Bailey Austin Design.
We're seeing this trend play out in smaller spaces like powder baths. If you think a half bath is too compact for high drama, take a listen to what The Spruce had to say, and check out this stunning pic: "In your powder room or any other small space, color is the quickest and easiest way to create instant style. The beauty of a small room is that you are not trying to make it look larger because it's not possible and totally pointless. Instead, focus on choosing bold or dark colors that you'd never use in a small room."
Plants
Everyone is going green! But not the faux type of green we've seen so much of in recent years. "Going green with nice, real indoor plants helps give personality and another layer to a space," said Linda Hayslett of L.H. Designs. "I can always spot a faux plant in a design. It may be great initially, but the character of a plant comes from how it organically grows. And faux plants will always remain the same and eventually get dusty."
The added benefit to having real plants: they're good for your health, both mental and physical. They've been shown to do everything from boost your mood and productivity, to reduce stress and fatigue, to clean the air that you breathe.
If you're worried you don't have a green thumb, try these low-maintenance indoor plants.
Outdoors
If your new home has a patio or yard, you'll want to take note of a few outdoor trends for 2020. Looking for furniture for this space? Rattan and wicker are back! "Rattan/wicker is having a resurgence; it warmly reminds me of my childhood and has evolved in fresh and exciting ways whether in chairs, tables, or lighting, it is the perfect layer to balance modern and traditional style," said Nicole Fuller of Nicole Fuller Interiors." 
Instead of going to the expense of building an outdoor fireplace or going with a fireplace table, go the way of the fire bowl. "Sculptural fire bowls become a functional piece of art, whether it's gas-fired or hold wooden fires. These beautiful sculptural bowls are simple to install and simple to use," said Janice Parker of Janice Parker of Janice Parker Landscape Architects.
For more information about buying a new home, visit Williams Homes. This renowned builder was founded in 1997 on the principles of integrity, trust, and partnership and has continued to thrive as one of the West's fastest-growing family owned homebuilders. Williams Homes was the proud recipient of the 2013 Builder of the Year Award by the Building Industry Association.
Williams Homes has built and delivered hundreds of new homes all over the West ranging from $159,000 to in excess of $1,000,000, building long-lasting relationships with homebuyers who often seek out another home from the builder when it's time to move up or move on.
You can also contact Williams Homes here.