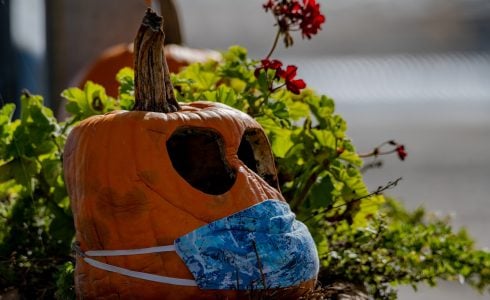 It may not be Halloween as usual, but that doesn't mean the family can't enjoy a spooky good time this year. Here are some tips for enjoying a fun and safe 2020 Halloween.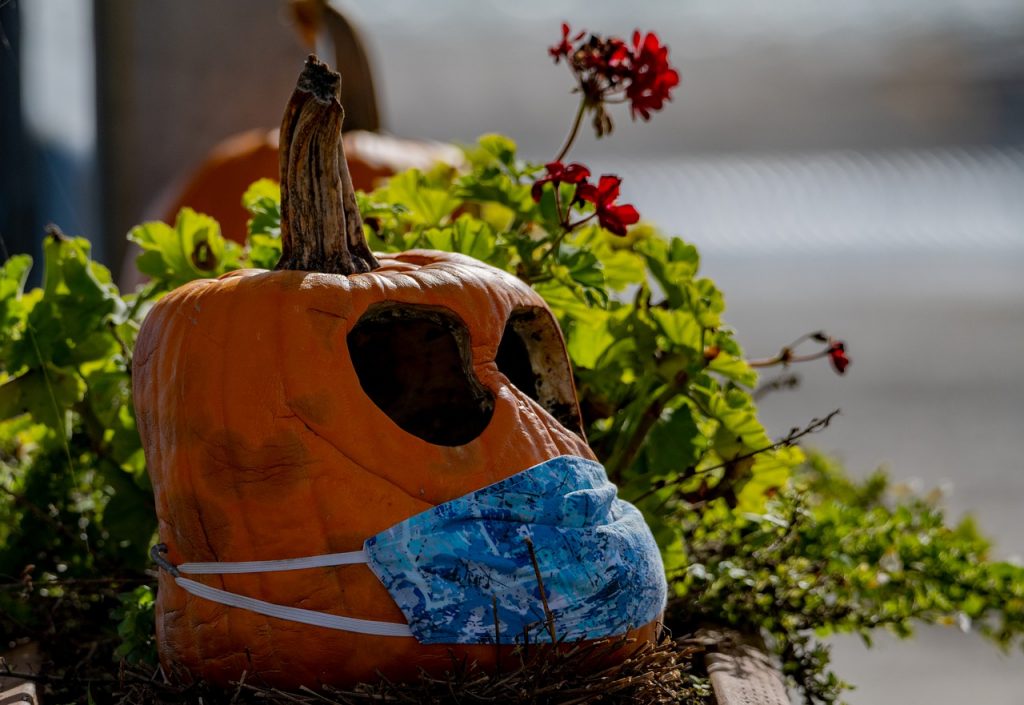 The Centers for Disease Control and Prevention (CDC) has outlined a series of Halloween-related activities and classified them as "Lower Risk, Moderate Risk, and Higher Risk." Among the lower-risk activities: "Doing a Halloween scavenger hunt where children are given lists of Halloween-themed things to look for while they walk outdoors from house to house admiring Halloween decorations at a distance."
Sounds good to us! On the other end of the spectrum, "Participating in traditional trick-or-treating where treats are handed to children who go door to door," is considered high-risk. But that doesn't mean you have to give up on the idea of trick-or-treating this year. With a few precautions, you can have fun and keep everyone safe.
Mask up
Masks are a necessity today anyway, and 2020 Halloween is the perfect day to take mask-wearing to a new level. Since everyone is already going to be wearing one to protect themselves against COVID-19, why not incorporate it into the costumes?! We love these ideas.
When it comes to mask safety, the CDC reminds us that a costume mask does not protect like a cloth mask. "A costume mask should not be used unless it is made of two or more layers of breathable fabric that covers the mouth and nose and doesn't leave gaps around the face." Also, you don't want to wear a costume mask over a protective mask "because it can be dangerous if the costume mask makes it hard to breathe."
Keep your distance
We've heard of many families and neighborhoods who are coordinating their trick-or-treating and making accommodations so the kids can still have their fun while staying safe. A popular idea to consider is putting candy out at the end of the driveway or yard for contactless trick-or-treating. Laying it out on a table means kids won't even have to reach into a bowl.
Indulge in another type of sweet treats
Time spent together makes memories, and baking on Halloween can become a new tradition you want to repeat every year. Sure, you can save room for a Reese's Peanut Butter Cup (or 10!), but filling your kitchen with the wafting scent of baked goods, and then being able to enjoy them, will be a treat—literally! You can get recipes for Halloween Candy Bark, Boo-scotti, Black Velvet Whoopie Pies, Devil Meringue Cookies, and more here.
Double up on the hand sanitizer
You won't have access to a sink if you're out trick-or-treating, so be sure you take the next best thing with you. And, if you can find small bottles of hand sanitizer in bulk, it would be nice to set some out next to the candy for trick-or-treaters to take.
Pick a path
In spite of the pandemic and regulations in specific cities and neighborhoods, there still might be some crowds out on 2020 Halloween. Pre-planning a trick-or-treat route on a less-crowded street or at least developing a Plan B for when you find yourself among more people than you're comfortable with is key.
Clean it up
You probably already check your kids' candy for open packages or questionable looking pieces. This year, inspecting the candy should also include a thorough clean-up to remove as many germs as possible. According to the CDC, the virus that causes COVID-19 can live on some surfaces for as long as 72 hours, so disinfecting everything thoroughly will bring you peace of mind. For maximum safety, be sure everyone washes their hands when they get home, and wipe down each piece of candy with a disinfectant wipe before anyone dives in.
And, don't forget about these tried-and-true tips for Halloween safety.
Consider the costume
You'll want to make sure any costume you buy is flame retardant. Sizing is also important, so overly long pants don't trip one of your kids and cause an injury. Being careful with mask that limit your kids' vision can also keep them safe while they navigate dark streets.
Watch the weather
Staying well is more important than ever this year, and temps can get chilly at night on Halloween. Asking your kiddo to wear a jacket over her costume may end in a tantrum—for both of you! Instead, layering up with tights or thermal pants and a long-sleeve shirt under the costume can help keep them toasty. If you can incorporate a hat into the costume—even better!
Be careful with props
Plastic swords, lightsabers, and knives are obviously not as dangerous as the real thing, but they can still do damage if they poke someone in the eye or cause a trip hazard.
For more information, visit Williams Homes. This renowned builder was founded in 1997 on the principles of integrity, trust, and partnership and has continued to thrive as one of the state's fastest-growing homebuilders. Williams Homes was the proud recipient of the 2013 Builder of the Year Award by the Building Industry Association.
Williams Homes has built and delivered hundreds of homes all over the west, building long-lasting relationships with homebuyers who often seek out another home from the builder when it's time to move up or move on.