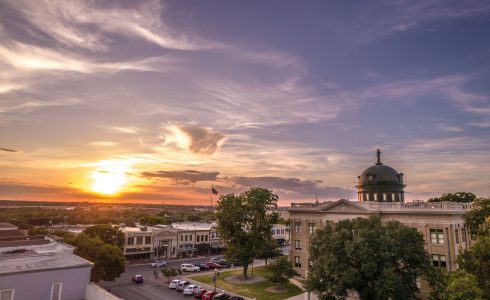 If you're considering Texas as your next home, you should have Georgetown in mind. It's a quaint and charming city nestled in Williamson County with beautiful scenery and an unbeatable quality of life. The city is located just 30 miles north of Austin on the I-35 highway, providing residents with the perfect balance of small-town living and big-city amenities. Whether you're a first-time homebuyer or just looking to relocate, here's what makes Georgetown, Texas a great place to live.
Plenty of things to do
Georgetown has something for everyone. For the outdoor enthusiast, the city is teeming with beautiful parks, hiking trails, and excellent golf courses. For art and history buffs, there are several museums and historically rich buildings, and a bustling downtown square. And for shoppers, there are countless boutique shops, farmers' markets, and outlet malls to explore. One thing's for sure: you'll never run out of things to do here!
Career opportunities
Georgetown has a thriving economy with lots of job opportunities in various fields, making it a perfect place for aspiring professionals. Career chances are excellent because of the expanding industries such as technology, health care, finance, and education. The city boasts some of the largest employers in the region, including Georgetown ISD, Williamson County, and St. David's Georgetown Hospital among others. Moreover, there is a burgeoning entrepreneurial scene, which provides unique opportunities for those who want to start their own businesses.
High quality of life
The quality of life in Georgetown is also exceptional. It's home to Southwestern University and some outstanding public schools, making it a great place to raise children. With affordable housing, excellent healthcare facilities, and safe neighborhoods, Georgetown is an ideal location to call home and raise a family.
Affordability
Compared to many other famous cities in Texas, Georgetown is an affordable city to live in. The cost of living in Georgetown is lower than the US average, and housing costs are relatively more affordable compared to other notable parts of Texas. There's also a wide variety of homes to suit any taste and budget – from modern homes in thriving neighborhoods to traditional homes with sweeping lawns and porches. There are plenty of choices for comfortable living without breaking the bank.
Proximity to Austin
While Georgetown has its charm, its proximity to Austin is a bonus. With just a 30-minute drive via I-35, you can easily commute to Austin for work or entertainment. Austin provides a variety of opportunities ranging from top-rated restaurants to major cultural events like the famous Austin City Limits Festival. But with Georgetown's small-town feel, you can easily escape the hustle and bustle of the city and enjoy a quieter way of life.
Georgetown has a lot to offer, whether you're looking for fun activities, career and lifestyle opportunities, affordable living, or a short commute to Austin. With its charming downtown, beautiful parks, and thriving business scene, it's no wonder why so many people are choosing to call Georgetown home.
Enclave at Hidden Oaks: New Homes in Georgetown, TX
If you're looking for a new home in Georgetown, stop by Enclave at Hidden Oaks. This vibrant community is located six miles north of historic Georgetown and is a place with plenty happening for everyone. With convenient access to I-35, most of Austin's metro area is within easy reach. Residents of Enclave also enjoy the best of what Georgetown has to offer: great schools, cultural events, and the historic downtown with shops, restaurants, wineries, and more.
The Enclave's four home designs feature single and two-story homes with great attention to detail making them as functional as they are beautiful. There are a few quick-move in homes remaining in this community.
When it's time to find your family's new home in Georgetown, we hope you'll consider the Enclave at Hidden Oaks. For more information on these new homes, please visit us at WiliamsHomes.com