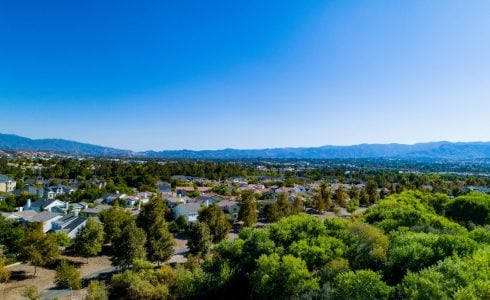 The Santa Clarita Valley attracts a lot of attention from homebuyers looking for a great place to live in Southern California. Not only is it a beautiful area to live in, but residents also love the quiet suburban feel, great schools, and its proximity to all the fun and adventure Southern California has to offer.
There are several communities and neighborhoods to choose from, including the popular Valencia area. Home to Six Flags Magic Mountain, it's the newest neighborhood in the area. However, many home buyers are focusing on other communities in the Valley for their home searches.
If you're looking for a new home in Valencia, here's why we recommend checking out Williams Ranch in nearby Castaic.
The Castaic area
Castaic is a small and charming town located about four miles north of Valencia off I-5 in the Santa Clarita Valley. Generally more affordable than Valencia, Castaic offers residents easy access to schools, plenty of local amenities like dining, entertainment, shopping, and recreational activities, and a number of great neighborhoods, including our newest community, Williams Ranch.
Williams Ranch in Castaic
Williams Ranch is a modern, master-planned community spanning 430 acres between the Sierra Pelona Mountains, Castaic Lake Recreation Area, and Valencia's Commerce Center. Its central location within the Santa Clarita Valley makes it a breeze to find fun things to do as a family, whether it's enjoying a meal out, shopping, exploring the great outdoors, and more. It is also accessible to major employment centers in the Santa Clarita Valley and nearby San Fernando Valley, and several major freeways.
This gated community was designed to bring people closer to the things that matter. The community is centered around a recreation center that will feature a clubhouse, swimming pool, and a residents-only outdoor kitchen. There are parks, including several private parks throughout the gated portion of the community, abundant open space connected by a trail system, an entertainment amphitheater, large citrus orchards, working vineyards, and a wine pavilion.
Four unique new home collections
There's a place here on the Ranch for everyone, whether you're looking for a full-time residence or a second home. Valencia-area homebuyers can choose from a selection of four unique home collections. There are a total of 15 detached single-family home designs in a range of architectural styles ranging from approximately 1,736 to 4,522 square feet.
Each home is set on spacious, pool-sized lots with breathtaking views, some allowing for RV access and accessory dwelling units (ADUs). The homes are filled with delightful details, thoughtful amenities, and of course Williams Homes' quality craftsmanship.
Williams Ranch is a warm and welcoming family-centric community with homes designed for living well. When it's time to find your family's new home in Valencia, we hope you'll consider Williams Ranch in Castaic. For more information on these new homes in Castaic, please visit us at WiliamsRanch.com
We look forward to helping you find your new home.