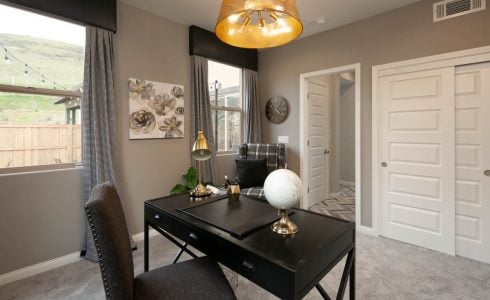 The home office has long been an integral feature of Williams Homes' new residences, which is why you can find one in many of our new-home communities throughout the western United States. As remote work arrangements continue to grow in popularity, being able to create the ideal work-from-home space is more important than ever. We've culled together these expert tips to help you nail the design and function of your home office.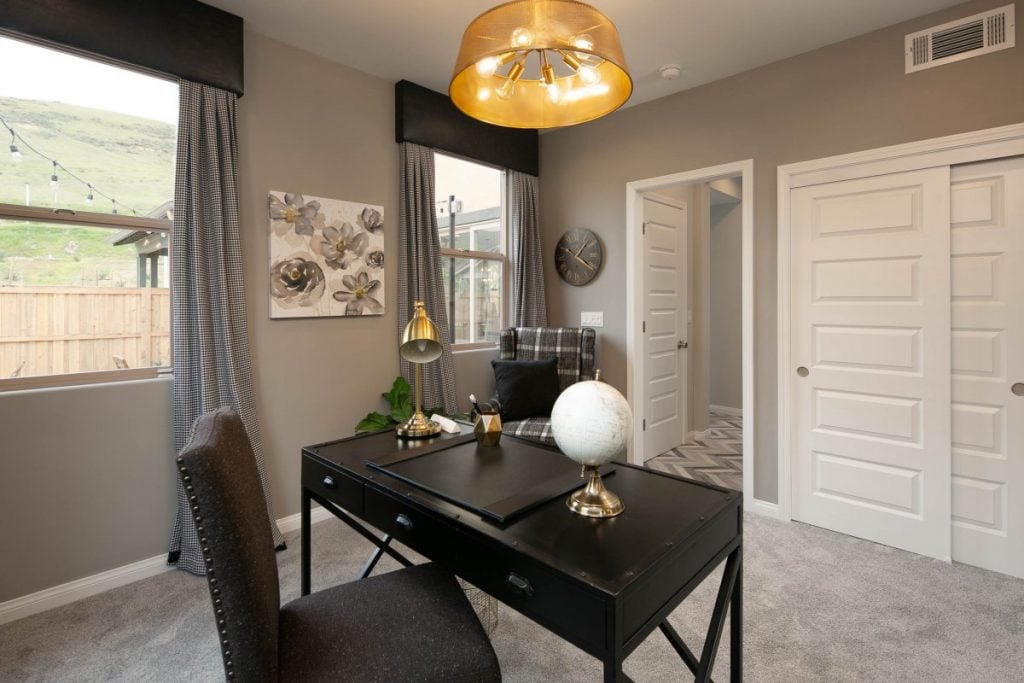 Get the right chair
If you're only going to be in your home office occasionally, you might not be too concerned about your office chair. But if you're working from home regularly or have a child who will be using the space for remote school, it's important to concentrate on comfort. "The body simply isn't designed to sit in an unnatural way and when your spine is put in a position that isn't natural, your posture will suffer and that can cause long-term health problems," said Autonomous. "If you heed the old saying of 'prevention is better than the cure', you'll save yourself a lot of pain and money." NBC News has some sage advice for choosing an ergonomic chair based on specific needs and budget.
Think scale
A tiny little desk in an ample room, or matched up against a lot of large pieces, can throw off the whole look and feel of your home office. Make sure your desk suits the space, but that it also suits your needs. Office Depot has some great information on buying the right desk.
Orient yourself properly
"Take a glance around your home office or bedroom, and consider how much space you have available for your new desk," said Hayneedle. "Keep in mind that you want to account for three feet of space in front of the desk for your office chair to move freely. Avoid obstructing doors and frequently used areas of the room. If you plan on putting a computer on the desk, you'll also want to be near an outlet while avoiding a sun glare from any nearby windows."
If you're planning to be on Zoom calls in your home office, you'll have additional considerations when it comes to desk placement. If you're putting the desk against a wall, make sure the view behind you is suitable for those video calls. Don't have a great-looking background? Zoom has you covered.
"Users can upload their own images (Zoom recommends that these images have an aspect ratio of 16:9 and a resolution of 1920 x 1080 px) and preview the virtual background to detect any issues before joining the meeting," said Zoom.
Make it pretty
When you're buying a new home, it's understandable to be focused on high-impact spaces like the kitchen and living room. But any space you spend significant time in can benefit from a style infusion. "Your home office should be a direct reflection of your personal style, passions, and aspirations," said Elle Decor. "One of its biggest advantages compared to a corporate office—where workers are often limited to customizing a cubicle with quirky calendars and potted plants—is that you can do anything you want." The site has tons of home office design inspiration to give you ideas for designing your own space.
Think about storage
You know what they say: You can never have enough storage. That's especially true in a home office, which is often asked to house not only work supplies and equipment, but also files, important documents, and numerous other items. We love these ideas from Family Handyman, including built-ins and open shelving with decorative boxes.
Get the lighting right
Low light in your home office can contribute to eye strain. In addition, "The Zoom app doesn't have a low light mode," said TechRepublic. "Because of this, you need to be in a room with plenty of lighting, be it natural or artificial."
Natural light is your friend, but if you need even more brightness, remember that you want your main light source "either right in front of you or no more than 45 degrees away from directly in front of you," said The Verge. "Also be aware that your screen can be a large source of light, so adjust your screen brightness, too, especially if you are taking a call without natural light. A bright screen can blow the highlights on your face out, making you look more like Casper the Ghost than a video calling champion."
For more information, visit Williams Homes. This renowned builder was founded in 1997 on the principles of integrity, trust, and partnership and has continued to thrive as one of the state's fastest-growing homebuilders. Williams Homes was the proud recipient of the 2013 Builder of the Year Award by the Building Industry Association.
Williams Homes has built and delivered hundreds of homes in the West ranging from $159,000 to in excess of $1,000,000, building long-lasting relationships with homebuyers who often seek out another home from the builder when it's time to move up or move on. The builder currently has new-home communities in a variety of price points in several of California's hottest areas, as well as Boise, ID and Bozeman, MT.