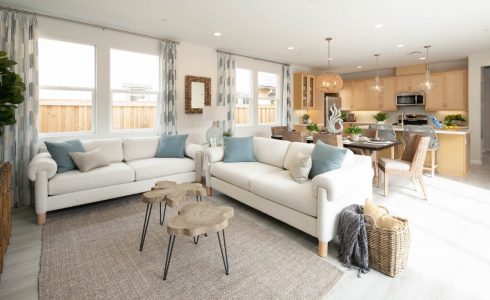 Open floorplans are increasingly popular in today's new homes. These casual living spaces fit how modern families want to interact in their homes. Without the traditional walls sectioning off each room, great rooms seamlessly merge the living spaces in your home. Now families can gather in the same space without feeling crowded.
However, these combined living spaces can present an interesting design dilemma. How do you decorate? When your kitchen, dining room, and living space occupy the same space, arranging your furniture can be a little tricky. Here are some tips for designing a picturesque great room.
Choose a focal point
Whether it's a large picture window, fireplace, or some other design element, use that as an anchor point for your room. Arrange larger furniture around your chosen focal point and work your way out from there.
Create functional zones
Because you have a multipurpose space, its important to create distinct areas for specific purposes. Use your furniture to mark each section of the room: position couches and chairs to create a comfortable seating area that promotes togetherness and conversation in the living room. Dining tables and chairs will indicate the dining area.
Coordinate with color
While the furniture in each area of the living space can look visually different, create a unified look by coordinating with similar colors throughout the space. Choose an overall color scheme and incorporate it in each area.
Define each space
A well-placed rug can serve several purposes: not only does it protect your floors and add some warmth to the room, but it can also help define each area's function and traffic flow.
Use the right lights
Lighting is another great way to designate each section of your great room. Recessed and pendant lights are perfect out-of-the-way task lights for working in the kitchen, while pendant and chandeliers go well over the dining table. Use wall scones, table, and floor lamps to provide additional light in the living room.
Great rooms continue to appear on homebuyers' wish lists for good reason! With these tips, you'll feel confident in designing a stylish great room everyone will love. Many of our new homes feature beautiful open floorplans with great rooms. Visit WilliamsHomes.com to learn more about our new homes and communities throughout the Central Coast and Southern California, Idaho, and Montana.